AfriLabs is excited to announce that we have partnered with the global manufacturer of advanced integrated digital technology platforms, Intel to gain a deeper understanding of the African deep-tech startup ecosystem and identify pathways in which Intel can extend their support to deep tech startups on the continent.
The startup scene in Africa has experienced incredible growth in recent years, and this is partly a result of several significant interventions by stakeholders to enable entrepreneurship and innovation in local ecosystems. AfriLabs and Intel's collaboration hopes to sustainably build on the work done and set a framework for future interventions.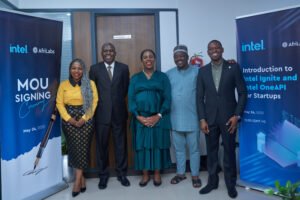 "To give more impactful support to the startup ecosystem in Africa, we need to consider specialised capacity building. Different kinds of startups need different kinds of support, and the AfriLabs partnership with Intel explores learning more about how we could better support deep tech ventures. I am particularly excited about this collaboration and how it would lay the foundation for deeper interactions between the ecosystem and big global tech players like Intel."  Anna Ekeledo, Executive Director, AfriLabs said during her opening remarks.
At the official partnership agreement signing ceremony on the 24th of May, 2022, Intel was represented by Maurits Tichelman, Vice President SMG & GM EMEA Territory, Intel (virtual), Dr Bienvenu AGBOKPONTO SOGLO, Director, Government Affairs Africa and EMEA CTO Liaison, Intel (onsite), Kate Hach, Head of Program, Intel Ignite's accelerator (virtual) and the Emerging Markets Director for Government and Education of Intel Corporation, Mr Sven Beckmann (virtual).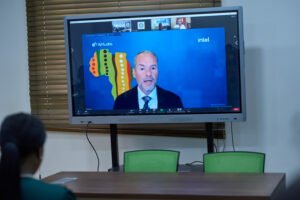 "As part of our desire to support the African Startups Ecosystem, Intel is looking to learn from and harvest new technology disruptions that will help position Intel's Business in Africa in areas such as Healthcare, Fintech, Agriculture, E-commerce, Mobility, Hardware/IoT that are enabled by Intel Technologies." said Maurits Tichelman, Vice President SMG & GM EMEA Territory, Intel during the signing ceremony. "It is in this regard, that we are signing a collaboration agreement with AfriLabs" he continued.
Anna Ekeledo, Executive Director of AfriLabs, Daniel Chinagozi, Member of the AfriLabs Board, Ajibola Odukoya, AfriLabs COO, Nekesa Were, Director of Strategy, AfriLabs, Felista Aku, Partnerships Manager at AfriLabs and other members of the AfriLabs team represented the AfriLabs. A cross-section of high-level local and regional innovation ecosystem key players was also present.
The partnership will leverage AfriLabs' pan-African reach to map startups and ecosystem stakeholders and provide recommendations for future modes of collaboration that will ensure continuous deal flow and establish a presence for Intel.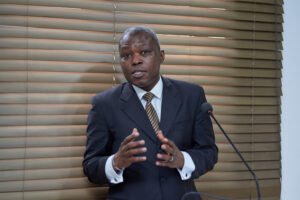 Dr Bienvenu AGBOKPONTO SOGLO, Director Government Affairs Africa & EMEA CTO Liaison, Intel also spoke about the organisation's ambition: "As Intel looks ahead to the next decade, our ambitions and opportunities have never been greater to unleash the power of data and help advance integrated corporate responsibility strategies in which companies use collaborative models to drive increased value creation and societal impact."
A prominent outcome of this partnership is that African startups in deep-tech will be introduced to Intel programs: Intel Ignite and Intel OneAPI for startups. A hybrid workshop focused on these programs was held after the signing ceremony with several startups from across the continent in attendance.
---
Stay tuned as we share more about the activities of this partnership and how you can be a part of it.
For more information, reach out to Felista Aku at felista@afrilabs.com.